Smart windows solutions
Custom window solutions for your specific needs
From solutions for large and heavy or very small windows to specialised safety requirements: we will work with you to find just the solution you need in window technology. Whether you need window locks or window ventilation systems.
Window safety system
Specific stipulation: Motor-driven ventilation without danger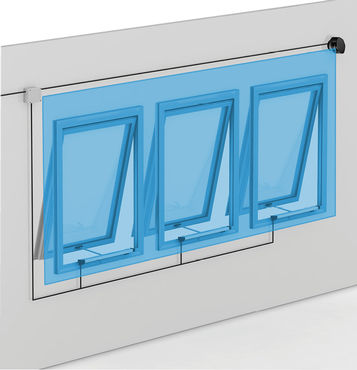 Window safety system © GEZE GmbH
Regular ventilation is important both for our physical well-being and for building structures, especially where large numbers of people interact - for example in office buildings, as well as in nursing homes, schools, and kindergartens. Automated window ventilation systems reliably provide the necessary air exchange. However, it is important that windows always open and close automatically and reliably. Especially where people with special needs, such as children, are unable to assess the danger of a closing window and may easily become trapped and suffer serious injury. Often, the automatically closing window may not be within sight of the person who is operating the window via push button. Nevertheless, it must be ensured that the window does not pose any danger.
Overview of our solutions
Automatic window activation at the push of a button
The opening and closing process stops reliably if a foreign object is detected – such as a child's hands
Non-contact protective devices with window safety system sensors that can be installed as needed
Reliable combinations of window drives, sensors, and a control box with safety switching device
Comfortable and reliable ventilation without the danger of personal injury, such as trapped fingers
Even if you can't see the window, you can easily close it
Window safety system for automated windows
Windows can always open and close automatically and safely if they are safeguarded correctly.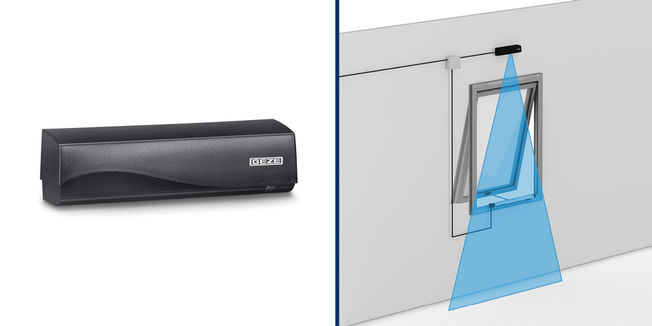 GEZE GC 339 light curtain window safety system © GEZE GmbH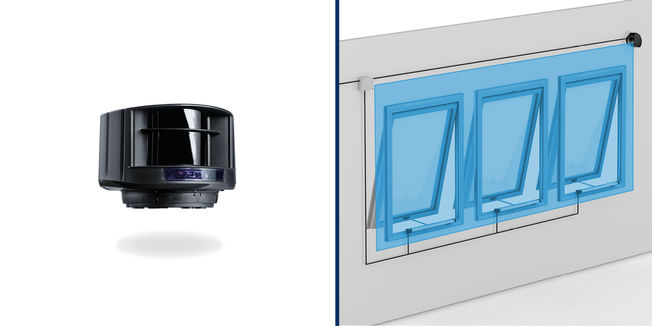 GEZE LZR®- i100 laser scanner window safety system © GEZE GmbH
Parallel-opening vent windows
Specific stipulation: Glass façades – optimal natural ventilation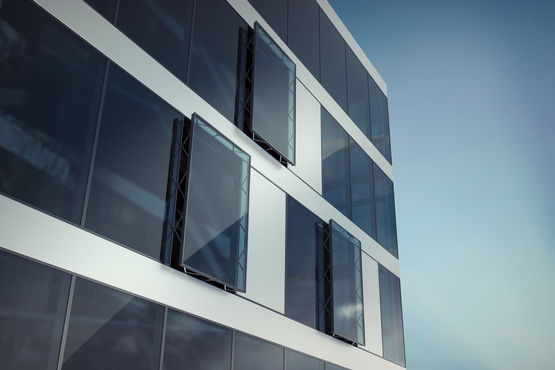 Parallel-opening windows
All-glass façades are true design highlights on large projects such as office complexes. As beautiful as these façades are, they can pose problems in terms of indoor climate regulation. Such regulation can be handled by ventilation systems or by natural ventilation. So-called parallel-opening vent windows allow window units, which are typically floor to ceiling and therefore very large and heavy, to be automated. Specialist components are required to fulfil unique needs. Especially if the windows need to seal tightly and lock reliably when closed.
Overview of our glass façade solutions
Ventilation using parallel-opening windows in office buildings
Automated parallel-opening windows with variable adjustment opening widths
Tight seal and reliable locking when closed
Development of a new software version that allows ventilation drives and locking drives to be used on the same window element to reliably open and close large, heavy windows
A specialised console set for the specific window type makes installation easier, while specialist driver forks ensure reliable locking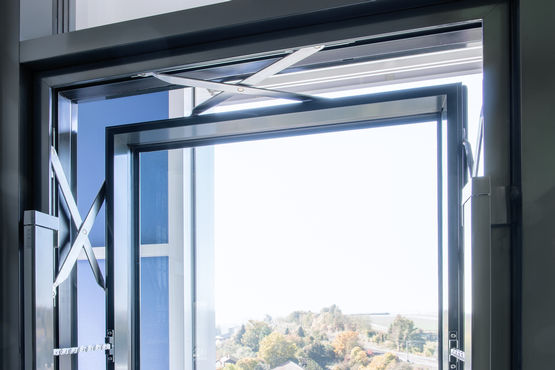 © GEZE GmbH
Fully-glazed façade with maximum visible area
High air exchange rate with opening width that can be variably adjusted
Tightly sealed and reliably locked windows
Ventilation
Specific stipulation: Smoke and heat extraction with only a few window solutions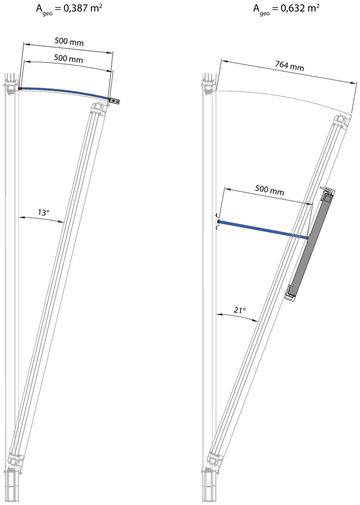 Drawbridge solutions for maximum ventilation diameters © GEZE GmbH
Fresh air must be ensured in the building, even if there are only a few window solutions, in which case it is all the more important that the window reaches its maximum opening width for maximum ventilation performance. In public buildings such as offices or administrative buildings, reliable smoke and heat exhaust (RWA) in the event of a fire plays a major role alongside ventilation.
Overview of our ventilation solutions
Maximum opening angle for plenty of fresh air in automated window units for RWA and ventilation applications
Development of a 'drawbridge' solution for maximum ventilation diameter
Exact determination of the installation position for the window drives depends on the structural properties, to ensure the required opening angle is achieved
Optimal placement of drives in the secondary closing edge instead of in the main closing edge (standard solution)
Maximum opening widths and optimal air flow for smoke and heat exhaust or natural ventilation
Different opening methods (inward or outward-opening tipping) available
Smoke and heat extraction can be handled even by few windows