The ÖAMTC Mobility Centre in Vienna: implemented with the latest technology from GEZE
Mobility and speed are the inspiration for the architecture of the impressive new headquarters of the Austrian Automobile, Motorcycle and Touring Club, ÖAMTC.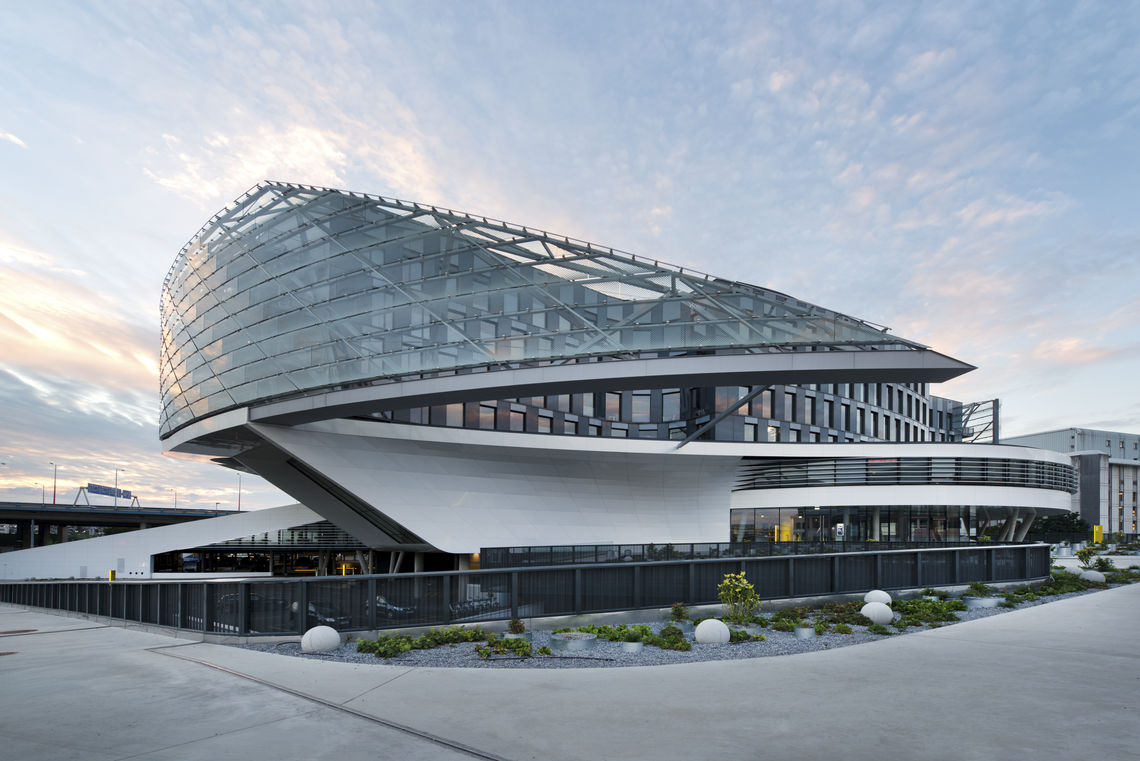 The main and side entrance both feature a revolving door with GEZE TSA 325, TS 5000 ISM semi-automatic technology. Photo: Sigrid Rauchdobler for GEZE GmbH © Sigrid Rauchdobler / GEZE GmbH
The 76 million euro new building stands at one of Vienna's most important traffic axes, the South-East tangent of the A23 city motorway. Mobility and speed are also associated with the services of a modern motoring organisation. These are everyday features of efficiency and quick communication within the building.
Transparent and open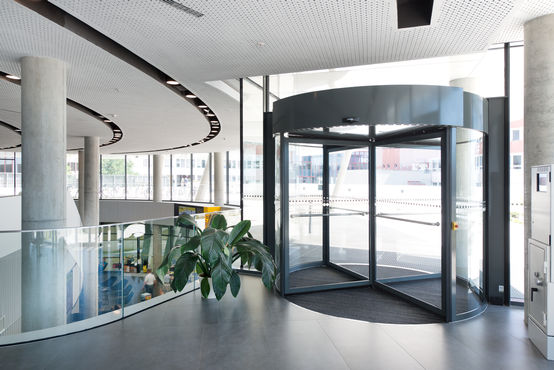 Automatic revolving door systems from the TSA 325 NT range can be seen in the entrance area. Photos: Sigrid Rauchdobler for GEZE GmbH © Sigrid Rauchdobler / GEZE GmbH
The Vienna architects Pichler & Traupmann realised their idea in a curved, circular and star-shaped architecture with open and transparent room connections. If you wish, you can directly follow the technical tests on your vehicle from a glass cockpit in the central shop and consultation area, or from the waiting area. All the areas, from the counter and consultation zone, the testing hall and the back office area to the heliport are arranged along a vertical axis. The importance of the fast interaction and the exchange between the areas can be seen in the central, transparent atrium too, with its circular balustrades, which are offset to each other and stacked upwards.
Revolving doors: Eye-catching 'pivot point' in the foyer
Revolving door systems at the main and side entrances connect the outside and inside, and ensure the aesthetic consistency of the glass façade. The swing door, with its fine-framed drum walls and leaves, creates an invitingly bright and transparent effect. The glass edges are covered by discreet aluminium profiles. The high-quality profile finish with rounded edges lends a hint of elegance.