GEZE at FeuerTrutz 2016
GEZE is presenting innovative system solutions at the trade fair which combine different comfort and safety functions to provide preventive fire protection on doors and windows. They are the specialist's response to the demands of safety officers, planners, builders and users.
Safety and comfort with 'intelligent' windows
The Powerchain chain drive for large and heavy windows in an RWA system solution. The drives in the IQ windowdrive range are equipped with a KNX interface and can be integrated into KNX-based building systems Photos: GEZE GmbH
GEZE automates many different kinds of window and façade elements and will present its modular RWA programme with intelligent drives from its IQ windowdrive series. State-of-the-art control technology makes the drives flexible and network capable, so that they can be adapted to different demands for both ventilation and RWA situations.
GEZE will present the Slimchain chain drive, the particularly slim all-round model, and the Powerchain chain drive, the power pack for large and heavy windows. As a direct opener, the E 250 NT spindle drive is the preferred solution for roof windows and skylights. The drives with the new Powerlock locking drive offer a modular system solution from a single source. It lock and unlocks window elements safely and reliably, thus ensuring smooth interaction between drive and lock. From the providers of complete RWA systems, trade fair visitors will also be able to see for themselves the advantages of the compact THZ and THZ Comfort RWA control units, as well as the MBZ 300 modular bus control unit for large and complex RWA systems.
The new GEZE indoor climate regulation for controlling natural ventilation extends the window driver and RWA range. Equipped with an interface based on KNX communication standards, it can be integrated into a KNX-based building system. Other KNX systems and drives or building technology components, such as solar protection systems, heating controls or air conditioning, can also be linked to the GEZE indoor climate regulation. Individual, flexible and efficient automation, safety and comfort functions facilitate various ventilation scenarios with solutions from GEZE
Networking determines the future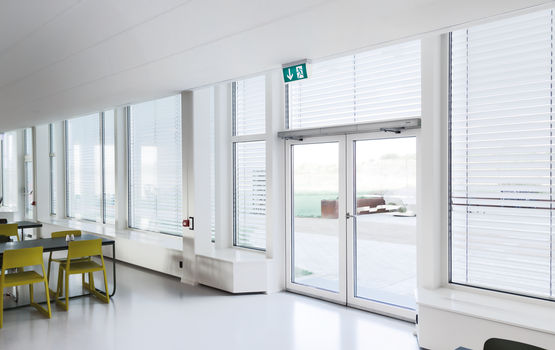 The ''strong' Powerturn swing door drive, awarded two Plus X awards, combines accessibility and functional diversity. It satisfies all comfort and safety standards and is also permitted for heavy fire protection doors. Photos: GEZE GmbH © Morten Bak / GEZE GmbH
GEZE goes one step further towards intelligent building networking and will introduce two new solutions to turn buildings into smart buildings. The company uses two global communication standards, KNX and BACnet for this, which allows different kinds of building technology components to be linked and automated.
An innovation in window technology is the IQ box KNX interface module. It enables direct integration of the window drives from the IQ windowdrive series in KNX building systems to control natural ventilation. The module offers the additional advantage of providing the KNX network with further information about window functions.
All GEZE system components become 'networks' with the new IO 420 interface module. Automatic door systems, ventilation technology and RWA, as well as safety systems, such as e.g. escape door controls, can be integrated into the higher-ranking building management system to automate its functions using BACnet.
The whole range of GEZE system expertise
GEZE will demonstrate cross-product expertise with a multifunctional swing door system for escape and rescue route doors. A system highlight is the Powerturn swing door drive for large and heavy doors which is distinguished by its high-level of function and design diversity. Other components are the IQ lock EL self-locking panic lock, the TZ 320 door control unit as the core element of escape door control, the FTV 320 escape door lock and the stand-alone GCER 100 access control system, which can be operated with tags and car keys. The entire system combines automatic, fully-accessible door comfort, increased burglar resistance, escape route protection and access control.
Geze is also showing the IQ lock AUT self-locking panic lock from the IQ lock family. Its merits lie in its capacity to fulfil the whole range of full panic door safety and comfort requirements, with automatic door leaves on both sides.
The new free swing door closer with comfort hold-open function
GEZE door closers offer fire protection and accessibility rolled into one. The free swing door closers in the TS 5000 and Boxer series, which are integrated into the door, have another benefit in addition to the free swinging function: the unique comfort hold-open function enables doors at the end of the free swing area to be kept locked in position and permanently open without Compromising the fire protection function.