Industry solutions
Convenient security, practical, and aesthetic.
There are many different needs that must be taken into consideration when planning, constructing, and operating public buildings: barrier-free construction and a fire protection system are clearly important, building automation is a functionally important part of building operations, and Universal Design is increasingly becoming a focus. GEZE solutions help you meet these needs.
City halls, municipal offices, and ministries as open houses for citizens
Public buildings must be easy to find, accessible and usable by everyone, including people with reduced mobility, impaired visual or hearing abilities as well as blind and deaf persons. This is ensured through barrier-free construction – an expected standard in modern public buildings.
GEZE solutions combine accessibility with fire protection and emergency exit protection demands. Fire protection in this instance often means protection against smoke rather than fire, since most victims of fire die from smoke inhalation rather than the fire itself. A smoke and heat extraction system (RWA) can vent smoke at the point where it is created, ensuring everyone can escape safely outdoors through the exit doors. These demands are taken into consideration in the fire protection concept.
GEZE understands these building management system demands for public buildings, and can support you through every phase of the project.
Highly frequented entrance area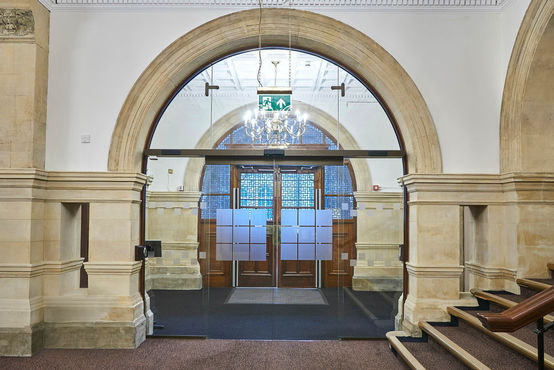 © GEZE GmbH
The entrance area, which is used by hundreds of people every day – or indeed every hour – must meet safety and accessibility requirements. GEZE solutions can help.
The entrance area to the Wakefield City Hall, for instance, was completely redesigned and made more safe: two double-leaf automatic glass sliding doors have been installed in the previously large open archways to the entrance area, to create access to the waiting area and the individual offices. This has created a new layout for the entrance area, adding a vestibule while retaining light and transparency. Fitted with Slimdrive SL NT sliding door systems, the new door solutions, tested to the UK "Equality Act" and the British Standard BS 8300, provide barrier-free access, emergency exit protection and energy efficiency by keeping the cold out.
Public buildings as the face of the local authority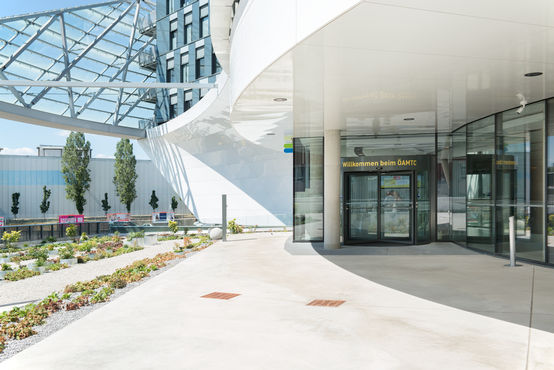 Revolving doors are an eye-catching feature and pivot point. © Sigrid Rauchdobler / GEZE GmbH
GEZE solutions meet door and window technology demands effortlessly, offering safety and functionality. By combining comfort and aesthetics, GEZE offers solutions that make public buildings especially attractive. Transparency is a quality criteria in local authorities, and is reflected in building management systems: integrated all-glass systems (IGG) by GEZE were installed, for instance, in the new building for the Federal Environmental Office in Dessau. The profiles and fittings system are integrated invisibly between the panes of glass. Custom surrounding edge printing creates a flat glass surface. This solution fulfils even the highest design standards, without losing the ability to be combined with different technical systems.
Revolving doors in the ÖAMTC Mobility Centre in Vienna not only keep draughts and noise outside; they also serve as an eye-catching element and "pivot point" in the foyer. They connect the inside and outside worlds, while maintaining the aesthetic openness and transparency of the glass façade. The swing door, with its fine-framed drum walls and leaves, creates an invitingly bright and transparent effect. The glass edges are covered by discreet aluminium profiles. The high-quality profile finish with rounded edges lends a hint of elegance.
GEZE system products ensure access for all, fire protection, and design in the Stuttgart City Library. Fully automatic double leaf swing doors with Slimdrive systems reflect visitors' expectations: the comfort of a modern library, security, quiet and a purist design. Due to the activation switches integrated into the door knobs, a gentle push is sufficient to start the soundless opening of the high doors.
Universal Design
Comfort and design are closely associated with access for all. The term Universal Design is becoming increasingly important in this context. This international design concept creates living spaces that are equally accessible, understandable and usable by everyone. According to this concept, buildings must be easy to access by the largest possible group of people, without third-party assistance. Universal Design is not directed towards a specific target audience: it is intended to make things easier for everyone.
One example of how GEZE implements this design concept: the Powerturn automatic swing door drive. The Powerturn automatic swing door drive opens large, heavy doors with a leaf weight of up to 600 kilograms reliably and safely, and is a good functional solution for public buildings – including for fire protection doors up to 300 kilograms. At the same time, its low overall height sits perfectly with any design. Its unique smart swing function also facilitates effortless manual passage through the door – for everyone at any time. From reliable RWA solutions to complex security interlocking door systems: as a true team player, the GEZE Powerturn can be integrated flexibly in a wide range of different systems: a perfect fit across the product range.
Fire protection sliding door system (GEZE-Hörmann)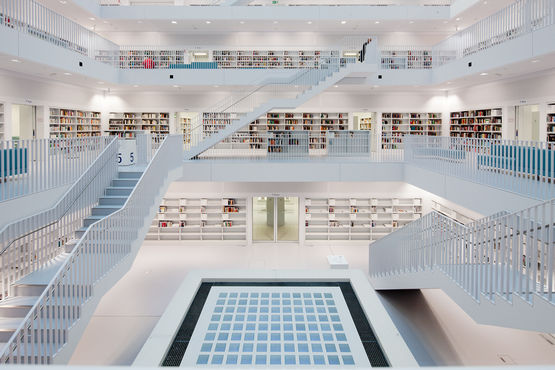 Light and open: view of the reading gallery under the central fanlight © GEZE GmbH
The glass T30 fire protection sliding doors equipped with Slimdrive SL drives are an exclusive joint product between GEZE and the door and gate specialist Hörmann. The combination is the only automatic fire protection sliding door system approved by the Deutsches Institut für Bautechnik (DIBt) (Centre of Competence for Construction). The fully glazed automatic sliding doors with fire resistance class T30 offer architects and planners a verified solution. In the event of fire, the doors close automatically and represent a safe fire protection closer - even if the hold-open function of the automatic door was used previously. They have no guide rails in the passage area and ensure barrier-free ease of access in "normal operation".