Industry solutions
Education – building technology that is hygienic, functional and safe
Barrier-free doors, room hygiene, preventive fire protection, protection against vandalism: these are just a few of the keywords that outline the needs for door, window and safety technology in the education sector. GEZE understands these needs and provides customised and solution-oriented advice in every project phase.
Innovative building technology for education
The architecture of nursery schools, schools or universities must be functional, hygienic, inviting, and safe. One example: doors and windows play an important role in natural ventilation and fire protection. Retractable arm drives by GEZE help ensure convenient daily ventilation – even for hundreds of windows. As a form of preventive fire protection they also ensure safe smoke removal, while locking mechanisms improve burglar-protection.
The following are particularly important in educational institutions: Safe design of automated windows
Natural ventilation via automated windows is a convenient and efficient solution for schools and nursery schools. Since power-operated windows are classified as machines according to the Machinery Directive 2006/42/EC, special protection ratings apply to them. To meet even the most stringent safety demands of protection rating 4, GEZE offers the TÜV-tested IQ box Safety solution. The safety switching module guarantees closing edge protection and clamping protection on automated power-operated windows. This ensures that there is no danger to children.
Barrier-free buildings enable access for everyone
Access for all always goes hand-in-hand with the planning of an educational institution. Automatic sliding and swing doors ensure that buildings can be entered without assistance. Additional sensors help to open doors automatically, and the free-swing function allows the door to be opened with minimum effort.
And let's not forget: doors and windows should not provide a target for vandalism. Door closers installed in the doors help with this.
GEZE understands these demands regarding building technology for nursery schools, schools and universities, and it supports you in all stages of the project.
Hygienic solutions for heavily used buildings in the education sector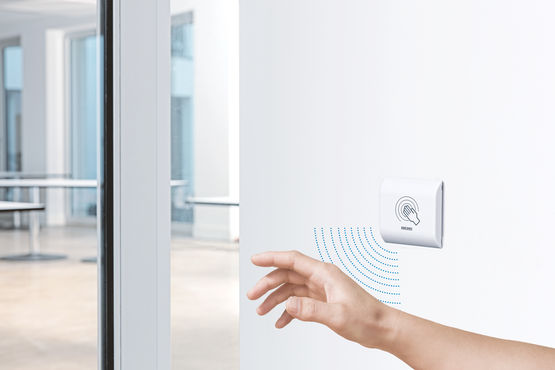 Hygienic solution for highly-frequented buildings: proximity switches for automated doors and windows such as GC 307+. © Lorenz Frey / GEZE GmbH
Particularly effective: automatic door and window systems with proximity switches. They enable contact-free use of doors and windows. Automatic proximity switches such as GC 307+ detect people and objects within a detection area of 10-50 cm and activate the automatic opening function when approached.
Furthermore, solutions for natural ventilation via automated windows not only increase room hygiene but also improve the learning atmosphere. Automatic window ventilation systems make set ventilation intervals possible – for the optimal, controlled supplying of fresh air. Not only does this improve the air quality; it also ensures clean air and so it's effectively a form of natural air purification.
Read our hygiene brochures to find out how you can use automatic door and window systems to make buildings more hygienic, convenient and liveable – particularly hotels, restaurants/catering and retail as well as educational and healthcare premises.
GO TO THE HYGIENE BROCHURES
Entrance areas: inviting and safe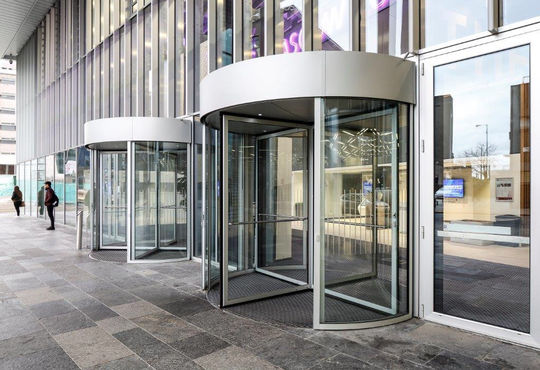 Manual revolving doors in the City of Glasgow College
The moment you enter an educational institution through the main entrance, it instantly becomes clear that buildings in the education sector have to meet many needs. GEZE solutions help you to do this, because: the main entrance needs to provide direction whilst at the same time being inviting, functional and safe, since many people will be entering and leaving the building at any given time.
The GEZE interlocking door system enables, for instance, a solution to be created that allows people to enter a building in a controlled manner, yet still in considerable numbers. Two single- or double-leaf doors are installed in sequence. These can be combined with manual and also barrier-free escape route solutions. Solutions for emergency exit protection save lives in an emergency, and in normal circumstances they prevent unauthorised persons from gaining access. GEZE helps you to combine your various needs, yet without neglecting the design aspects.
GEZE products in Glasgow are doing just that: students at one of Europe's latest super colleges – the £ 228 million City of Glasgow College in the heart of Glasgow – are welcomed by GEZE products.
Find out about our other reference projects in the education sector and see for yourself just what we can do.
Zu den GEZE Referenzen
Door systems designed to deter vandalism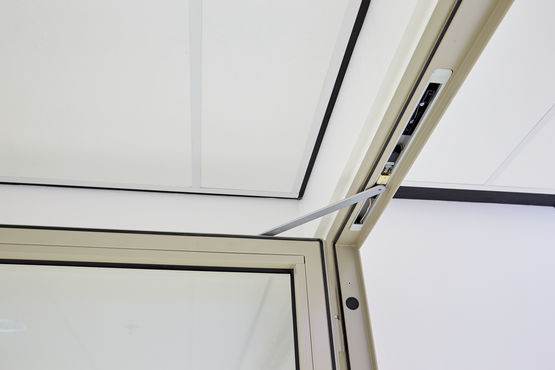 The guide rail of the Boxer can is visible only when the door is open. © Erwin Kamphuis / GEZE GmbH
Losses due to vandalism can be a tough problem to solve – and not just in schools. GEZE can help you prevent vandalism with robust and durable yet convenient solutions for doors. For example, the integrated closing sequence control can be designed so that it cannot be destroyed by applying force and is overridden if excessive force is applied, which ensures that the mechanism is not damaged. Door closers with guide rails, or door closers that are fully integrated into the door leaf instead of systems with a link arm that protrudes into the room reduce the risk of misuse.
At the FHS St. Gallen University of Applied Sciences GEZE has equipped around two hundred interior doors with Boxer series door closers that are fully embedded in the door leaf so that they are not visible. The guide rail is visible only when the doors are open. They are perfect for linear, modern door designs, and they also prevent misuse.
Our expertise for nursery schools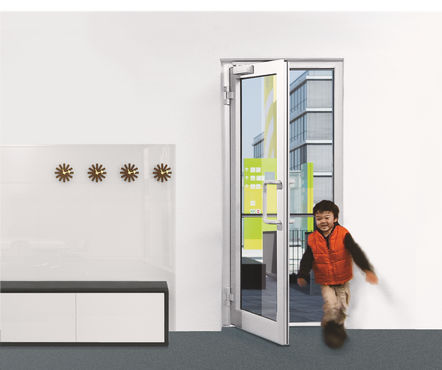 Easy to open and accessible: ideal for everyday use by children © Line L. Filoglou / GEZE GmbH
Doors fulfil an important function in nursery schools in particular: on the one hand they must ensure that children cannot leave the rooms on their own; but on the other hand they must be able to leave in emergency situations. Adults, however, especially nursery school staff, must be able to pass through doors at any time with no problem. Last but not least, parents should of course be able to enter and leave the nursery school in a controlled manner.
GEZE offers solutions featuring doors which are operated via push buttons that are out of reach for children but easy for nursery school staff to operate. If parents call by during the day, they ring the bell and the door can be unlocked from the inside via a push button. Emergency exit protection can also be disabled via a timer during pick-up and drop-off times, allowing parents and children to enter and leave unimpeded.
We know from experience that pinch protection for children's hands must be taken into account in every nursery school door solution. This takes the form of retrofittable finger guard curtains, which securely cover the gap between the door leaf and the frame. Rotary knobs can also be used to secure heavily-used doors, thereby acting as a form of finger guard. Our GEZE ActiveStop ensures damped opening and closing and provides protection from slamming doors and jammed fingers. Different solutions can be combined, depending on the respective set-up and needs.