The trade fair presentation at a glance: GEZE at Light + Building
For building and spatial automation, GEZE will be presenting innovative solutions that deliver overall improvements to living and working in smart buildings at Frankfurt Exhibition Centre (Messe Frankfurt) from 13 to 18 March. They make buildings more comfortable, increase security, save energy and create new visual possibilities.
Smart Buildings: Networked solutions are defining the future
Automated and networked building functions with GEZE solutions offer users, building operators, investors, architects and specialist planners enhanced benefits. The solutions open up new markets and offer advantages in the electrical sector (trade, industry and retail).
The highlights of the trade fair are the new interface solutions for the integration of GEZE products in global standard open communication protocols for home and building systems technology (KNX and BACnet).
In window technology, the IQ box KNX interface module enables the visualisation, command and control of the intelligent window drives in the IQ windowdrive series in a building equipped with the KNX bus system. It enables direct integration of drives into the KNX bus system to control natural ventilation. For maximum efficiency and security in building operations, the new module in the KNX bus also provides additional information about the window functions.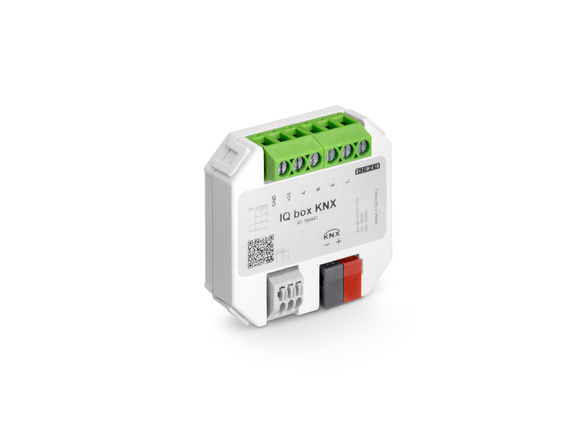 IQ Box KNX
A leap in security and convenience: The new IQ box KNX interface module allows the window drives of the IQ windowdrive series to be integrated into KNX bus systems. .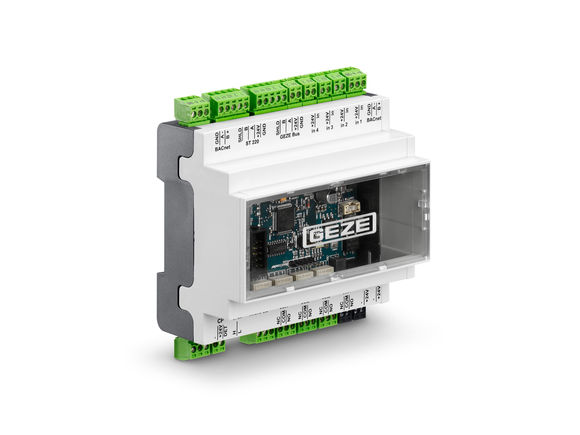 IO 420
The IO 420 interface module can be used to network all GEZE system components with each other via the BACnet communication protocol and integrate them in the building management system. © GEZE GmbH
From the comprehensive product portfolio, we are showing:

automatic multifunctional door systems,
door technology (hold-open systems with free swing and unique comfort hold-open function),
window technology (RWA systems: window drives from the IQ windowdrive series and RWA control units),
safety systems (the TZ 320 door control unit as a central control unit for each system component of the GEZE SecuLogicemergency exit system),
emergency exit openers and
self-locking panic locks

which are integrated into the building management system via the open standard.
Convenience and protection for entrance doors in smaller buildings
GEZE also offers needs-based door solutions for entrances to smaller properties or private homes, and presents an automatic door system with the ECturn Inside swing door drive, multi-point locking and the new stand-alone GEZE SecuLogic GCER 100 access control system.
Electric strikes for convenience, security and design
GEZE will be demonstrating its expertise and comprehensive range of electric strike systems with the extended product programme from GEZE's subsidiary IST Systems:
the particular strengths of the new A4000 vector electric strikes include almost silent door opening as well as secure release of the lock latch even when under high preload – and without the need for additional electronics. The typically small IST dimensions guarantee new design possibilities and a high level of planning security – benefits that excite the electrical trade as much as they do door manufacturers and installation engineers, architects and professional planners.