Overview of the trade fair presentation: GEZE at Fensterbau Frontale
Focusing on the Professional, Living and Service fields, GEZE presents innovative solutions designed to make living and working in modern buildings easier, including interface solutions for the integration of building technology, window technology, door technology and services.
Professional Solutions: Forward-looking solutions for smart buildings
GEZE showcases two interface modules for intelligent building networking which can be integrated into the KNX and BACnet protocols: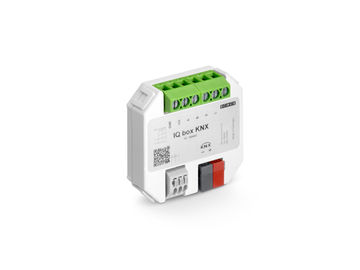 IQ box KNX interface module
In the window technology field, the IQ box KNX interface module enables controlled, natural ventilation,and the window drives from the GEZE IQ windowdrive series can be directly incorporated into KNX building systems. The module uses the intelligence of the window drives for this. After performing a 'command', not only the status of a window is reported to the KNX building system or building management system – additional window information is also made available.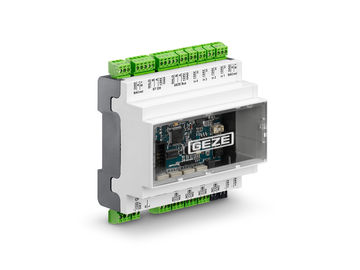 BACnet MS/TP interface module for connecting GEZE products to the building management system © GEZE GmbH
IO 420 interface module
The new IO 420 interface module is the key for 'smart buildings' because all system components are connected within a single network. This allows automatic door systems, door technology, ventilation technology, RWA and safety systems (e. g. emergency exit control or escape door locks) and self-locking panic locks to be integrated into the building management system via the BACnet communication protocol.
Automatic doors with outstanding safety and convenience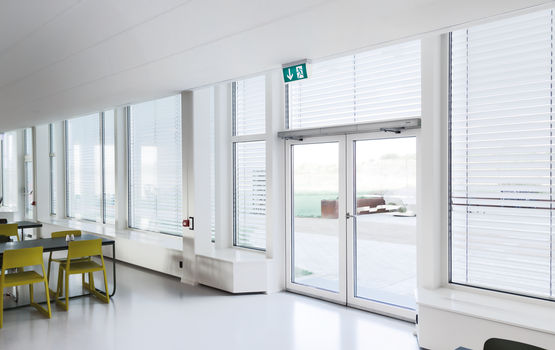 Escape route with Powerturn in the Danish Association for Disabled People, Taastrup, Denmark © Morten Bak / GEZE GmbH
In a new variant for asymmetric doors, the 'strong' Powerturn automatic swing door drive is presented as a multifunctional door solution. The entire system combines automatic, fully-accessible door comfort, increased burglar resistance, fire protection and emergency exit protection with outstanding door design.
IST Systems – a GEZE subsidiary – has extended its product portfolio with the new A4000 vector electric strike. The particular strengths of the electric strikes – with the typically small IST dimensions – include almost silent door opening as well as secure release of the lock latch even when under high preload.
Living Solutions: Power, comfort and design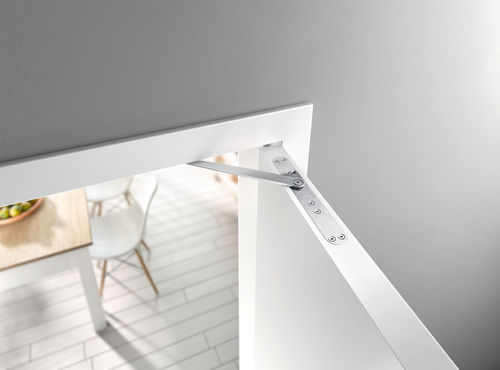 Draw-in damper on both sides for single-action doors without fire protection demands
One highlight in the Living Solutions field is the GEZE ActiveStop door damper. It offers a new, high degree of convenience and a feeling of spaciousness. GEZE ActiveStop can stop doors gently, close them quietly and keep them open with ease. The door damper can be quickly and easily integrated into almost all standard doors, and is almost invisible.
From its extended range of manual sliding door systems, GEZE is also presenting the new Levolan 120 sliding door system which is an optimal solution for heavy door leaves. It is twice as stable but no larger than its 'little brother', the Levolan 60, and allows discreetpermits decent aesthetics in even the smallest installation spaces.
The trusted Rollan 40 NT / 80 NT sliding fitting system has a set of new features: moving sliding panels is easier, smoother and quieter with the new, exceptionally light-running roller carriages. The new Rollan 80 NT SoftStop draw-in damper allows the Rollan 80 NT to be equipped with door leaves weighing up to 45 kilograms. This means that sliding panels with the smallest leaf widths can also be damped.
Service Solutions: the right solution for every need
GEZE specialises in providing customised services. The focus in this field is on overall support for building management systems within a project – ranging from the first consultation, assembly and commissioning, to after-sales service and the modernisation of existing systems. With GEZE Customer Solutions, customers benefit from customised (special) solutions from a single source.
With the data packages for logiKal (Orgadata), GEZE is making the work of metal processors and planners simpler and more efficient. When planning, calculating and building façades, they can also access GEZE product data.
GEZE also works with Building Information Modelling ('BIM). In addition to converting GEZE product data into the BIM format of the leading CAD programs, project planners can benefit from extensive and valuable assistance.