Topics
Window safety systems – design power-operated windows safely
Did you know that the risk of an accident at home is greater than in traffic? That's according to the latest figures from offices for statistics. But many of the dangers can be minimised. For example, automated windows can be designed safely with the protection systems in line with the applicable protection ratings such as pinch protection, safety scissor stays, sensors and safety modules.
Identify danger zones around the window – increase window safety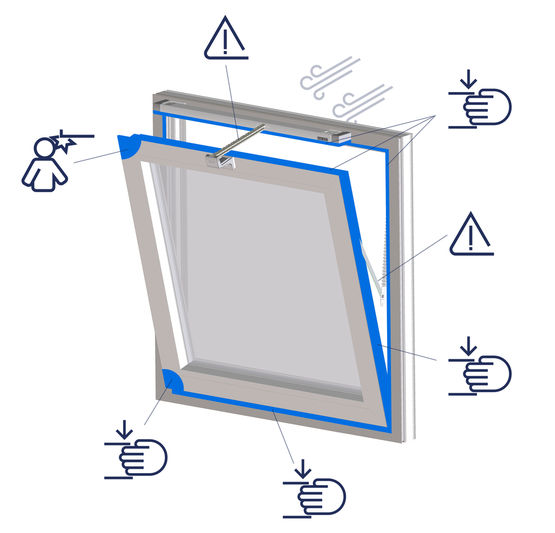 Hazardous zones with automatic windows
Windows are popular entry points for burglars. The term 'window safety' is therefore understood to mean mechanical theft protection. Window bars, window locks and lever locks are designed to make breaking in from the outside more difficult or impossible. But people often forget: Windows need more safety measures than simple burglar protection. Window leaves may, for example, spring open in windy conditions or drop down during cleaning, thus causing injury. And what happens if someone leans out of a window, while the window is in automatic closing mode? Or if a child puts their fingers on the closing edge? 'Window safety systems' are designed to protect against such serious injuries.
Potential hazards of automatic windows
Automatic opening or closing may jam/crush limbs, or cause impact
Component failure such as a window leaf falling/collapsing
Protective measures for greater window safety
Power-operated windows need special protective measures.
Safety elements are often prescribed for automated windows with a drive system. These Window safety systems must recognise when a person or an object is in the path of opening or closing, and subsequently stop the movement. In the event of a malfunction, a window must be prevented from flying open or dropping down, too. This is achieved via mechanical safeguards - on bottom-hung windows which are inward-opening this may be by means of a gripping and cleaning scissor stay, or via a safety scissor stay.
Product Safety Act, guidelines and standards for window safety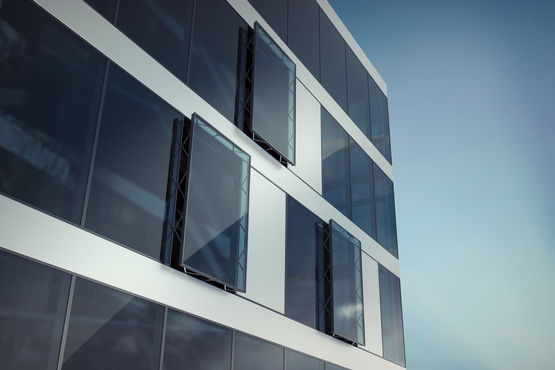 Window safety applies to both manually-operated and electric windows.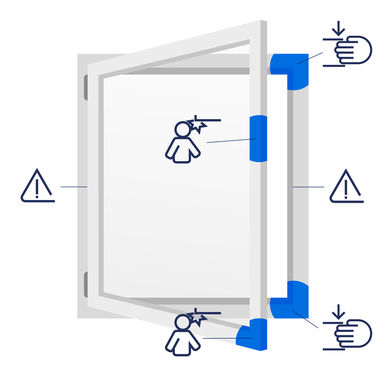 Possible danger zones on windows are to be repaired.
Power-operated or automated windows are machines as defined in the European Machinery Directive MRL 2006/42/EC. In the European Union, this covers a standardised level of protection for machines to prevent accidents. The objective is to "ensure the safety and health of people, particularly of employees and users, and also of pets and objects if necessary, particularly with regard to handling machinery". The Machinery Directive is implemented in Germany via the Product Safety Act (ProdSG) and the Machinery Ordinance (9. ProdSV) that is based on it.
Product standards for windows
Additional safety features which protect users of windows and doors against hazards arising from improper operation, use, or system failure are covered in the EN 14351-1 product standard for windows. Gripping and cleaning scissor stays or safety scissor stays, locking mechanisms and opening restrictors are mechanical components that are suitable for preventing accidents and dangers.
Power-operated windows also fall within the area of application of product standard EN 14351-1. EN 60335-2-103 applies to the safety of electric drive units in use.
Risk assessment and determining protection ratings for power-operated windows
A risk assessment must be performed during building planning to determine the potential hazards of a motor-driven window, and to implement appropriate safeguard in responses. The installer of the window performs the assessment in compliance with the Machinery Directive, and based on:
Installation situation
Automated Windows where the lower edge of the leaf is at least 2.5 m above the floor or that have a jamb do not need further protection. Freely accessible windows where the lower edge of the leaf has a clearance of less than 2.5 m from the floor are at greater risk, and a risk analysis must be carried out.
Type of room use
Office buildings, living areas, nursery schools, schools, or hospitals and other health institutions are assessed differently. After all, people in special need of protection who are using the room, for example children in educational institutions are considered less aware of the risks than a user group that is fully familiar with the window equipment.
Control/operation
An automated and centrally controlled window, such as via a rain/wind control unit or a building management system, are considered to be more dangerous compared to a manually operated window with key switch and visual contact with the window.
The results of installer's assessment give the protection rating for the respective window, and the resulting risk reduction measures to be implemented:
Protection rating 0: no measures
Protection rating 1: Warning notices
Protection rating 2: e.g. signals
Protection rating 3: e.g. switching operation
Protection rating 4: e.g. sensors such as light curtains
Window safety systems from GEZE

Power-operated windows are considered to be machines.
GEZE window safety systems are special solutions that support user safety and protect people from the hazards of automated windows.
Pinch protection for power-operated windows
For example, GEZE sensor solutions help automatically controlled windows to guarantee the window safety prescribed according to protection ratings and DIN standards. These components reliably protect against hazards that arise from pinching and shearing edges, and ensure that window systems are safe for all users of the building in day-to-day operation. This is particularly relevant in buildings such as schools, nursery schools and hospitals, as well as in buildings that are open to the public, such as meeting venues and retail spaces. Here in particular, it must be ensured that improper use of the windows or carelessness do not result in injury.
Window safety for bottom-hung windows
When drives are used for activating bottom-hung windows (open/close), there is a potential danger of falling window leaves. For this reason, GEZE prescribes the compulsory use of separate GEZE safety scissor stays, which are not connected with the drive. The GEZE safety scissor stays ensure that a permanent fixed connection between the frame and leaf is guaranteed – independently of the drive. The driven bottom-hung window is only safely protected against falling when GEZE safety scissor stays (type 35 or type 60) are used. The bottom-hung window must not be operated if the safety scissor stays are missing.
Falling window leaves can be a significant danger for the life and limb or persons near the window. For this reason, the use of GEZE safety scissor stays is compulsory when GEZE - drives are used on bottom-hung windows. These also secure the window if components fail, such as a chain on a drive breaking or if a window hinge breaks.
GEZE window safety systems via safety scissor stays
Safety scissors prevent uncontrolled falling of large and heavy window leaves in the tilted position in the event of an unexpected malfunction. The safety scissor kicks in to take up the load only if the drive fails.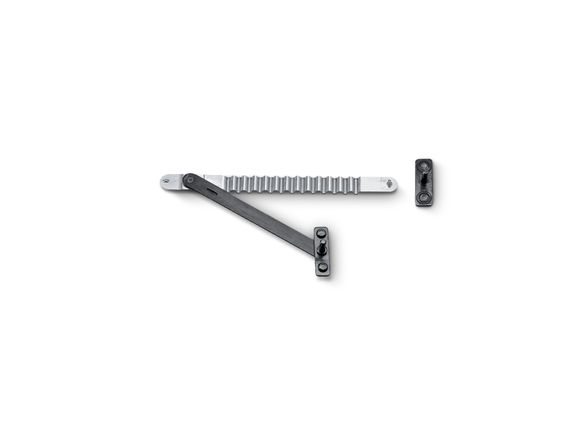 GEZE safety scissor no. 35
For product liability reasons, installation of safety scissors on automatically operated bottom-hung leaves is mandatory. They ensure a permanent connection between the leaf and the frame in the event of malfunction. © GEZE GmbH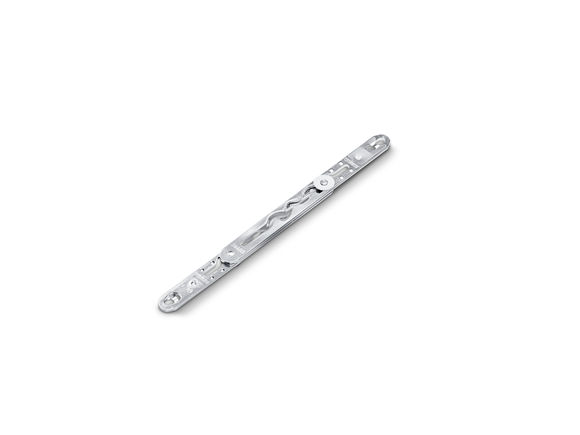 GEZE gripping and cleaning scissor stay (FPS)
Gripping and cleaning scissor stays: these are designed to make exterior cleaning easier and to protect manually operated bottom-hung leaves. If bottom-hung leaves need to be cleaned from outside, then the leaf is tilted further inwards. The window leaf is manually locked into a cleaning position to hold it in place. Additional safeguarding of the leaf position is required in this cleaning position in order to restrict the tilting movement. © GEZE GmbH
GEZE window safety systems for automated windows
In the case of a protection rating 2 hazard, for example, acoustic warning signals such as the GEZE signal horn or an emergency stop switch can be installed on the window. In addition, structural measures such as mobile installations in front of the window can help prevent access.
Go to the GEZE EFT elbow switch
For protection rating 3 GEZE provides, for example, a dead man's control without a higher level control system. The push button is not in the immediate vicinity of the danger area, however it is within view of the window to ensure the window is operated with due caution. This means that a window can be moved only by making a conscious effort. GEZE provides a comprehensive range of controls that can be operated with ventilation switches with a dead man's function.
All drives in the GEZE IQ windowdrive series are delivered with a closing speed of 5mm/second, leaving users with sufficient time to move away from the danger zone. In addition, all GEZE IQ windowdrive series products have adjustable opening strokes and speeds.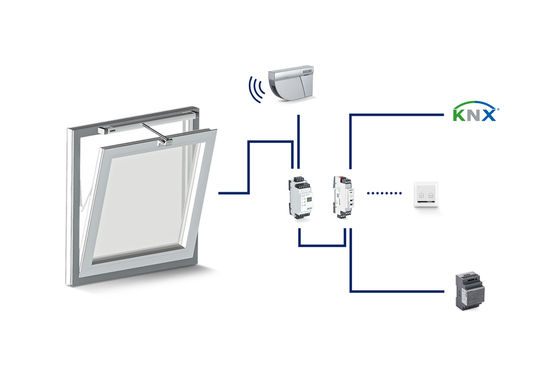 Exemplary control via KNX: Window protection on the automated bottom-hung window opening inwards.
In areas of the highest protection rating, namely protection rating 4, contact-based or non-contact protective devices ensure the required security. In general, switch strips or non-contact protective sensors provide protection. At GEZE, this solution consists of sensors, a safety switching device, and a control device.
For closing edge protection on power-operated windows with 24 V drives of the IQ windowdrive range, GEZE offers the IQ box Safety module. The TÜV-tested solution is suitable for the protection of all standard window types (e.g. bottom-hung, side-hung, top-hung windows, parallel opening windows) as well as all types of opening (outward and inward opening). For each window, one IQ box Safety connects up to four window drives and two locking drives. The safety module can easily be connected to various systems such as an existing building management system, smoke and heat extraction system or indoor climate regulation.
GEZE window safety systems with sensors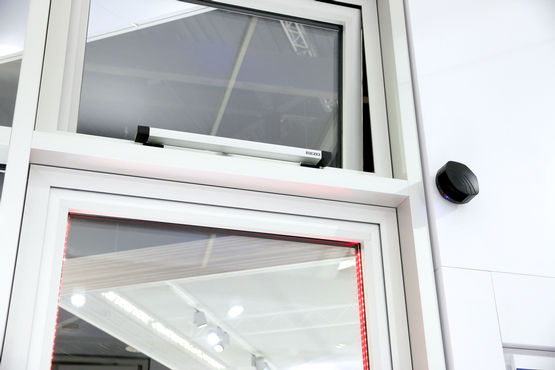 Window safety via a laser scanner sensor © GEZE GmbH
Automatic windows can practically be controlled by rain-wind controls or a building management system without visual contact. Automatic operation means, however, that there is a risk of people being injured on the window edges. These windows can be secured via sensors in specific installation situations and depending on the window type and the structural circumstances. Sensors - either light curtains or laser scanners - enable large-scale protection of individual windows or several windows. If windows are operated automatically, a safety device reliably switches off the drive. The different sensor solutions can be integrated unobtrusively into façades, ceiling or frame elements.
The GEZE range covers non-contact pinch protection for different window types, both inward and outward-opening. Depending on the window type and installation position, a particular window may be secured with a suitable sensor - either via an active infrared control curtain or a laser scanner. The various sensors in conjunction with safety modules allow individual closing edges or whole façade sections to be protected.
The securing variants with the GEZE GC 339 active infrared light curtain and the GEZE LZR_I100 laser scanner are shown below by way of example.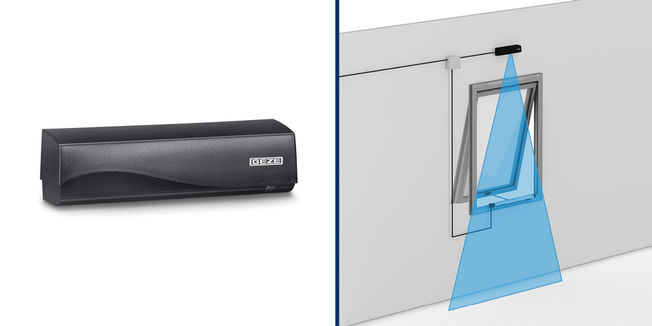 GEZE GC 339 active infrared light curtain
Invisible and non-contact protective device. Self-monitoring light curtain to protect the main and secondary closing edges of the window. © GEZE GmbH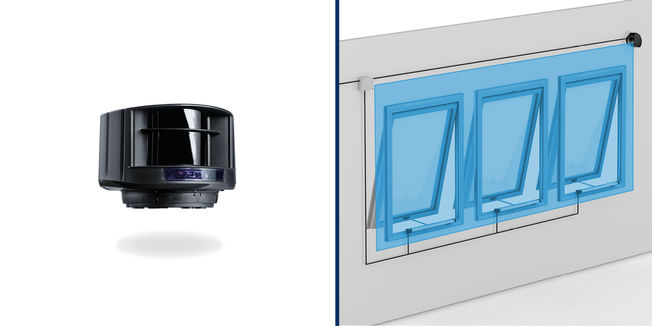 GEZE LZR-I100 laser scanner
Self-monitoring sensor which is used to protect one or several windows within a façade and allow for a large detection area. © GEZE GmbH
Professional window planning: Building-specific support from the very start
GEZE provides support during the planning of automated windows and offers comprehensive assistance – as early as the technical project planning and risk analysis. Optimal functional and cost-effective window safety solutions are always in line with building-specific circumstances.
Advantages of window safety systems:
Reliable protection against dangers arising from pinching and shearing edges on automatic windows. A high safety standard is achieved which, for example, prevents undetected failure or manipulation of the sensors.
Non-contact systems: by using non-contact sensors, the window automatically reverses when it receives a signal from the sensors, thus preventing collision with people.
Unobtrusive appearance: sensors and safety scissor stays can be integrated into the window so that there is no visual impairment.
Architect hotline
Our project consultants are available via the GEZE architect hotline (Mo-Thu: 9:00 a.m. - 4:00 p.m. / Fri: 9:00 a.m. - 3:00 p.m.) to provide you with detailed information and advice on our products and their use. Give us a call on +49 (0)7152/203-112.
Customised solutions, simple installation and training
Installers must take appropriate measures to minimise potential hazards when installing power-operated windows.
Customised packages: thanks to the flexibility offered when selecting components, highly customised packages can be created that will provide the perfect solution for any customer need.
Simple installation: The protection components are supplied ready-wired in a compact housing. Installation simply requires the window drive, the supply voltage and the sensors to be connected.
Everything from a single source: The entire system is available from a single source. Installation engineers and/or distributors have a single point of contact for all system components.
GEZE installations comply with all safety aspects
Users can be reassured that GEZE installations comply with all safety aspects.
Furthermore, GEZE offers its customers everything from a single source: window drives, sensors, scissors, installation, and after-sales service.
Even where additional windows requirements come into the equation such as RWA, networking of windows and doors, etc., GEZE can help.