Case studies
Only the Alps are higher: Revolving door comfort for the Roche Tower
At 178 m high, the Roche Tower is the tallest building in Switzerland. As the headquarters of the pharmaceutical company Hoffmann-La Roche, the tower is also a pinnacle of design and functionality. GEZE contributed to the comfort and safety of the striking building with state-of-the-art technology.
Revolving doors for convenient access to the cafeteria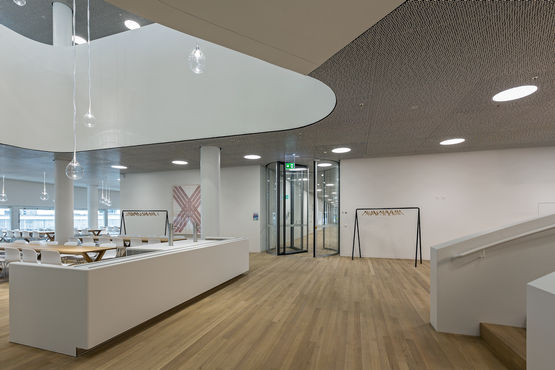 Open and light rooms dominate in the Roche Tower.
The Roche Tower: another highlight from the renowned Basel architects Herzog & de Meuron. Reflecting the pharmaceutical group's hexagonal logo, the solitary glazed tower tapers in a stepped design over 41 floors. The cafeteria is located on the third and fourth floors of the Roche Tower. The eye-catching feature and literal 'pivot point' of the entrance areas are three customised fully automatic revolving door systems from GEZE's TSA 325 NT series.
With passage clearances of 2.82 m and passage heights of 3.28 – 3.48 m, the 3-leaf revolving doors offer generous ease of access and are the ideal solution for consistently high public traffic. The fine-framed door leaves with glass elements at the side fit perfectly into the purist interior design and underscore the inviting atmosphere. In addition, the revolving doors ensure regular air circulation, prevent draughts, and insulate against noise.
The highest standards in comfort and building safety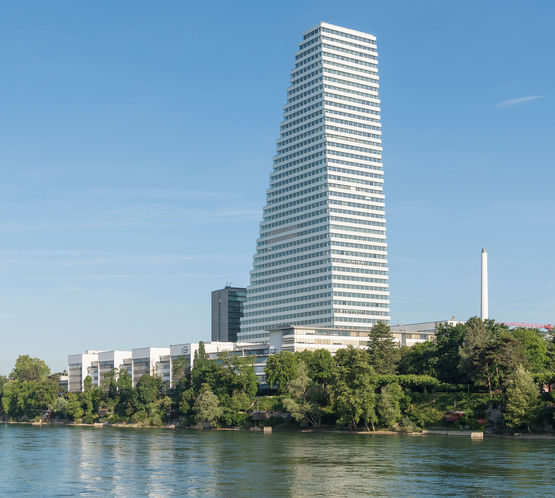 Exterior view of the Roche Tower in Basel. © F. Hoffmann-La Roche AG / GEZE GmbH
Revolving doors by GEZE impress not only with their modern look and high functionality – they are also meet the most stringent safety standards: The glazed curved sliding doors satisfy the requirements of DIN 18650 and EN 16005. A special push button slows the turning speed of the door leaf, allowing individuals with restricted mobility to pass through easily.
Break-out sliding door fittings secure open escape routes
To comply with the Roche Tower's stringent safety requirements, all three revolving doors in the restaurant area were constructed as escape and rescue route doors with 'break-out' door fittings. These allow the exit doors to be opened manually as additional turn-tilt fittings in the event of an emergency. This provides the largest possible passages in the shortest possible time, to allow persons fleeing danger to leave the restaurant and cafeteria quickly and safely.
Maximum design freedom: GEZE customised solutions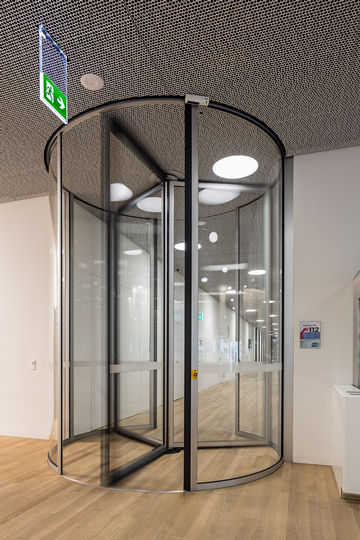 Glazed revolving doors: Transparency and a great climate in the cafeteria.
Unique architecture demands customised construction elements. The revolving doors designed for the Roche Tower - developed and manufactured in GEZE's own facilities for project-specific solutions - demonstrate how comprehensively GEZE is able to address specific requests.. GEZE also fulfilled all the requirements for a custom lighting solution integrated into the door. It is precisely such customised solutions, the minimalist look, and the functional diversity of GEZE door systems that help top fulfil modern requirements for comfort, functionality and building security at the highest levels.
GEZE products in the Roche Tower, Basel
Custom-made, fully automatic TSA 325 NT series revolving door systems
Revolving doors as escape and rescue route doors with 'break-out' door fittings